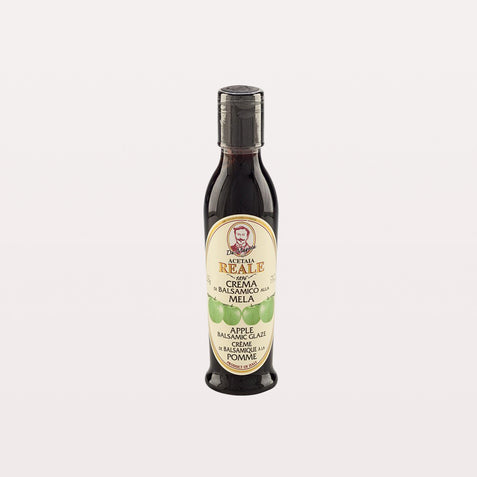 Apple Balsamic Glaze by Acetaia Leonardi
was $13.95
save $6.96
$6.99
REALE's Apple Crema di Balsamico is one of our 24 variations of velvety Balsamic Glaze, made from 3-year 100% Balsamic Vinegar by the Leonardi family. Apple Balsamic Glaze works great on cheese boards, or as a dip for bread- try it blended with butter! The combination of apples and balsamic is a no-brainer for relishes, chutneys and compotes and alongside roasts. The squeeze bottle gives you perfect plating control.
Free Shipping on orders $75+!
---
Subscription/Rewards information
In Acetaia Leonardi's REALE line of elegant Crema di Balsamico Balsamic Glazes, 3-year aged 100% Balsamic Vinegar is cooked down and thickened into a smooth liquid velvet. The result is a rich and full-bodied glaze with the perfect consistency for added plate appeal.  The squeeze bottle is ideal for finishing.  Balance savory sweetness with soft tang and add depth and character to everyday dishes. Glazes are available in 24 flavors, and Apple is a sweet and savory version.

Apple glaze is a sweet condiment that works great when added to cheese boards. It also makes a wonderful addition to cheese spreads for bread or crackers and even blended with butter!  The combination of apple and balsamic is also very suitable in relishes, chutneys and compotes. For a savory application, try finishing a game sauce or pork glaze! 

Meet The Makers
Acetaia Reale is the fourth-generation family-run producer behind all of Uncommon Gourmet's Balsamic Vinegar and specialty vinegar products. Simply put, everything they make is sublime, from REALE Balsamic Vinegars, to Red Wine Vinegar, to Balsamic Glazes in 20+ flavors.
View The Profile