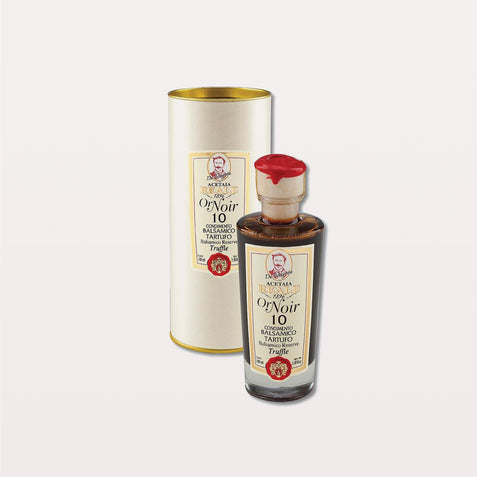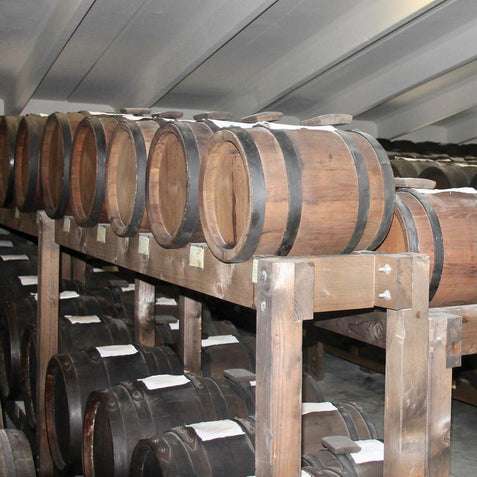 10 Year 100% Balsamic Vinegar Infused with Truffle by Acetaia Leonardi (100ml)
This 10 year Truffle Infused Balsamic Vinegar is always a hit. The sweet-and-sour condiment is an authentic Balsamic: it's made from 100% grape must (cooked, concentrated grape juice) infused with Truffles. It is sweeter than Aceto Balsamico because it has no added vinegar! REALE balsamic condiments are coloring free and 100% natural.
Free Shipping on orders $75+!
---
Subscription/Rewards information
This is a very special sweet-and-sour condiment made of Cooked grape juice (must) only. In fact, the word "condimento" with Balsamic Vinegar tells you that the product is made from 100% cooked grape must. The acidity is around 5%, so it is sweeter than Balsamic Vinegar because it has no added wine vinegar! The more it is aged, the more it gets thick and sweet. Family-run producer Acetaia Leonardi's REALE line of balsamic condiments are coloring free and 100% natural, made of one ingredient only: Cooked grape juice (concentrated must), acetified through alcoholic fermentation and aged in wood barrels, with annual transfer into different types of barrels to acquire the flavors of each wood. 
The typical woods used are the same as for the DOP Traditional Balsamic Vinegar: oak, chestnut, cherry, ash, mulberry, acacia. 
This is one of the very special REALE Balsamic Vinegars infused with Truffle for 10 years. It's always a hit!

Meet The Makers
Acetaia Reale is the fourth-generation family-run producer behind all of Uncommon Gourmet's Balsamic Vinegar and specialty vinegar products. Simply put, everything they make is sublime, from REALE Balsamic Vinegars, to Red Wine Vinegar, to Balsamic Glazes in 20+ flavors.
View The Profile