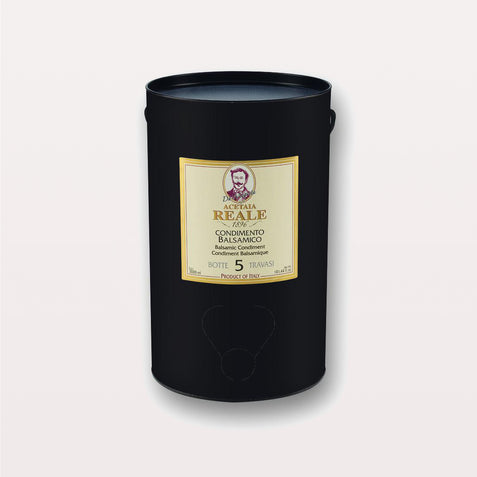 Condimento 100% 5 year Balsamic Vinegar in a Tube (3 liters)
REALE Balsamic Vinegar is REAL Balsamic Vinegar!  There is just ONE ingredient – grapes!   The Leonardi family has been making Balsamic Vinegar for 147 years with sheer artistry and craft.  They use Lambrusco and Trebbiano grapes that are grown on their estate in Italy.  The grapes are cooked at a low temperature for 3
Free Shipping on orders $75+!
---
Subscription/Rewards information
REALE Balsamic Vinegar is REAL Balsamic Vinegar!  There is just ONE ingredient – grapes!   The Leonardi family has been making Balsamic Vinegar for 147 years with sheer artistry and craft.  They use Lambrusco and Trebbiano grapes that are grown on their estate in Italy.  The grapes are cooked at a low temperature for 36 hours which produces a grape must.  The must is then placed in large wooden barrels (oak, chestnut, cherry, ash, juniper, and mulberry) with a starter, similar to sourdough bread.  At the end of the first year, the musts are moved to smaller barrels made from a different wood.  At the end of the 5-year cycle, the must has gone through 5 barrels of 5 woods to achieve its full character and distinctive flavor.  The flavor of Balsamic evolves over time and the longer it is aged, the richer and sweeter it becomes.  This is our Best Selling 100% Balsamic Vinegar in the 250ml size! It is delicious on salad, but also try on grilled or roasted meats of all variety, fish, vegetables and also cheese. The Bag in a Tube is sold to restaurants and other commercial food establishments as well as home chefs.

Meet The Makers
Acetaia Reale is the fourth-generation family-run producer behind all of Uncommon Gourmet's Balsamic Vinegar and specialty vinegar products. Simply put, everything they make is sublime, from REALE Balsamic Vinegars, to Red Wine Vinegar, to Balsamic Glazes in 20+ flavors.
View The Profile
Our Tips & Recipes
Elevate your cooking and bring Italy into the kitchen with this product.