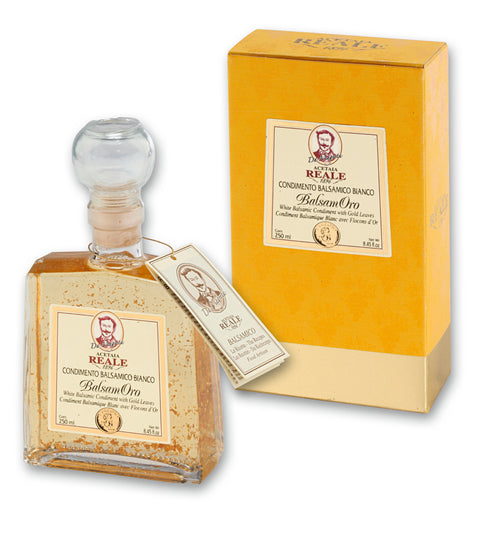 REALE White Balsamic Vinegar with REAL GOLD Flakes Gift Boxed
was $69.95
save $0.00
$69.95
REALE White Balsamic Vinegar with REAL GOLD Flakes Gift Boxed 250ml This 5-year-old White Balsamic Vinegar is made solely from Trebbiano grapes and white wine vinegar.  It is aged in oak barrels and enhanced with real gold flakes!  The flavor is a sweet-and-sour, refined and delicate.  Its intense fruity-velvety taste
Free Shipping on orders $75+!
---
Subscription/Rewards information
REALE White Balsamic Vinegar with REAL GOLD Flakes Gift Boxed 250ml
This 5-year-old White Balsamic Vinegar is made solely from Trebbiano grapes and white wine vinegar.  It is aged in oak barrels and enhanced with real gold flakes!  The flavor is a sweet-and-sour, refined and delicate.  Its intense fruity-velvety taste and the natural amber color combined with edible gold flakes make it unique and precious.  The gift box is beautiful and decorative. 
Ideal on fish, white meats, carpaccio, cheese, salads, and desserts to add a delicious and glittering note.

 

All REALE balsamic condiments are made with 100% natural products.

Produced by the Leonardi family in Modena Italy where they have been producing Balsamic Vinegar for 148 years